Card Holders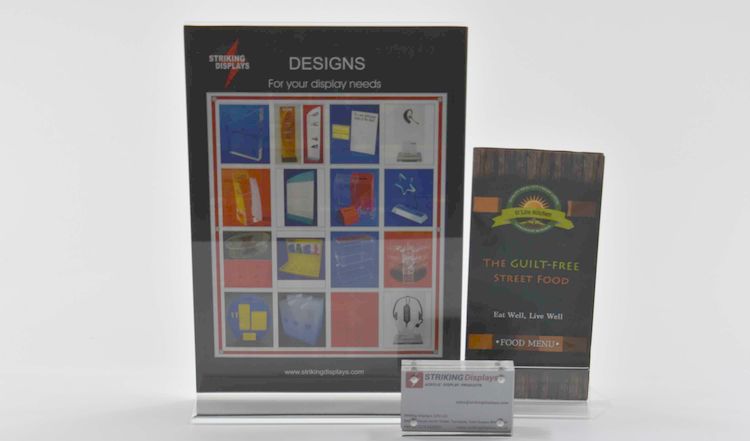 We manufacture in the UK from the best quality European materials making top quality acrylic and other plastic products. Stocking a wide range of acrylic show cardholders, information holders, menu holders & stands also name tents in single & double-sided formats. Also magnetic clear acrylic price, menu and information holders plus picture frames. Our free standing and wall mount information holders are and can be used as price displays, poster holders & menu stands of various types. Cardholders are made in sizes from A10 up to A0 in both portrait and landscape in single or double-sided formats. The most popular sizes of cardholders we produce are A4, A5, 1/3 A4 (DL) in free standing and wall mounting styles; also popular are A2, A3 & A6 sizes. Bespoke cardholders are made in acrylic & PVC to suit your requirements. We also manufacture floor standing poster holders & counter top sign holders, we will find the best solution to display and protect your information. All cardholders can be personalised with the option of screen print, vinyl graphics, CNC or laser engrave and digital prints to artwork supplied. Please click on the images below for more product information.
From: Excl. VAT: £3.15 Incl. VAT: £3.78 To: Excl. VAT: £18.00 Incl. VAT: £21.60

(Product Code: MB920) Select your required size(s) below or click o...

From: Excl. VAT: £6.60 Incl. VAT: £7.92 To: Excl. VAT: £20.20 Incl. VAT: £24.24

(Product Code: MB922) Select your required size(s) and orientation ...

Excl. VAT:

£2.60

Incl. VAT:

£3.12

(Product Code: MB924) Dimensions: As per details below Made to Order ...
Regular Price: £10.20

Special Price Excl. VAT: £5.00 Incl. VAT: £6.00

Special Offer- NOW ONLY £5.00 +VAT each (Product Code: SO-A6MAGCH) ...