Sweet Bins & Dispensers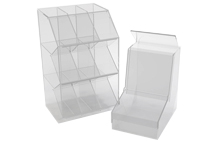 Top quality UK manufactured range of acrylic (Perspex) sweet bins with single & multiple sections, standard & made options in clear or coloured acrylic. These acrylic sweet dispensers / sweet display containers are an ideal way to dispense chocolates, penny sweets & other confectionery items, they are commonly used for pick and mix in sweet shops, newsagents, cinemas and supermarkets. Sweet dispensers can also used for promotional items, small gifts, electrical parts & sachets of beverages, shampoos & condiments & much more. Please also view the 300mm acrylic globe & 200mm stacking cubes. Click on the images below for more product information.
(Product Code: SB811-16) Dimension: H:1540mm X W:800mm X D:400mm with ...

(Product Code: SB812-20) Dimensions: H:1040mm X W:1000mm X D:400mm wi...