Hello everyone,
I guess you can call this our first 'official' post.
There has been a real boom in token collectors / coin collectors or whatever you normal folk call them.
At the moment there is a influx in reward and charity schemes across the county that allows you, the customer to pick where you wish your donation goes towards.
For those of you who are unaware, Waitrose and other popular convenience stores and shopping centre's across the UK have a monthly collection/donation scheme which involves customers being given a coloured token at the checkout and place it in the box of their choice. A sum of money is divided up each month between each nominated charity according to the number of discs in each charity box.
We recently released a double and treble section version of are most popular floor standing collector, which has been met with great feedback.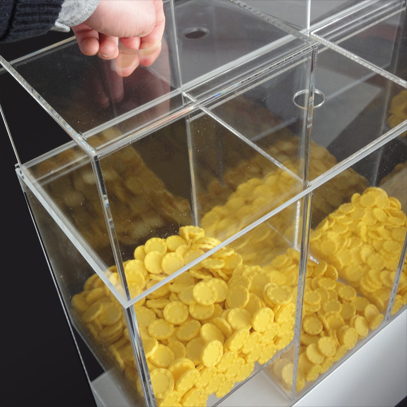 Due to such high demand for new style collection boxes, yesterday we decided to sit down with the design team to talk about creating an entirely new range of plastic collection units and kick some ideas about.
A large amount of your collection box enquiries are for special, made to order displays.
Lucky for you guys and girls, we have a fantastic, well experienced team with years and years of knowledge and experience to help clients get the perfect bespoke donation box.
That aside, we wanted to take some of the key requests and ideas that have been proposed to us to give you a product that is a well rounded and desirable unit based on your needs and requirements.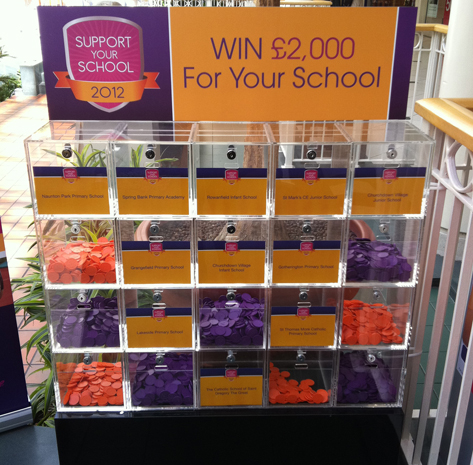 We want to make the experience of empty these units as quick, and effortless and as stress free as possible. We understand that some tasks can be rather tedious and seem like a bit of a chore. So we've devised some simple, fast and clean ways of removing large quantities of tokens fast.
This is all based around new mechanisms and deposit systems which we are currently drawing up and will soon be prototyping.
Hang on a second…. We seem to have focused a lot of time on creating a range of multiple floor standing collectors and little on counter top and wall mounted units.
Never fear, we have several designs we are currently finishing up on which will soon be finalized and stocked.
Don't forget, we specialize in manufacturing bespoke units. So you if can't find what you are after, either send us an email of give us a call and someone in our sales team will be more than happy to help.
Finally, we're thinking outside 'the box' with a whole new range of circular units coming out late 2013.
The designs look great and I really can't wait for one of these in action!
The tubes come in different sized for counter top and free standing use which will hold from 800-2,000 tokens. Keep your eyes peeled for updates on this.